Gianni Trovalusci will perform again my work "no sun, no moon" for bass flute and electronic (fixed media), this time at the Chapman University in Orange (South California) in the New Horizons Concert Series, which features performances by six leading contemporary music soloists and ensembles.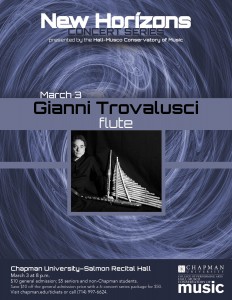 The concert will be the next Thursday, March 3rd, 2016 (8:00 pm), at the Salmon Recital Hall in the Chapman University.
"Starting from the fifties and sixties of last century, the flute became an important medium in the field of Contemporary Music, taking part of a musical revolution destined to change composition and interpretation and the very idea of the musical language. Italian flutist Gianni Trovalusci in this recital will present an exciting selection of contemporary music for flute with live electronics from Italy and other countries. Music by Walter Branchi, Jorge García Del Valle Méndez, Paolo Rotili, Kaija Saariaho, and faculty member Dominique Schafer. Presented as part of the "New Horizons Concert Series," and is presented in collaboration with the Italian Cultural Institute, Los Angeles (IICLA)".
My work "no sun, no moon" explores the duality of the combination acoustic instrument-electronic. In this work the bass flute and the electronics are two worlds, reality and parallel reality, two sides of the mirror. Both are the same thing and simultaneously its opposite, interacting and reacting one another.
Do not miss the performance of Gianni in this concert if you're going to be around!