This coming Tuesday June 14th, 2016, AuditivVokal Dresden will perform an early work of mine in a new version: "Du, Deiner, Dich, Dir" for speaker and electronics (fixed media, 4-channel).
The concert will be performed two times, so you have two opportunities to join us! In the Palais im Großen Garten – Dresden takes place the concert series "OFFENES PALAIS – MUSIK UND KUNST IM GROSSEN GARTEN". AuditivVokal Dresden will perform here the concert "MENSCHEN-SPRACHEN-MUSIK". This concert is about the language taken from the point of view of its musical sense, as well as about the ineffability of the musical discourse. Language considered as a material structure.
My work "Du, Deiner, Dich, Dir" is based on the dadaist poem "An Anna Blume" by Kurt Schwitters. I attempted to capture the naive atmosphere of the poem from a dramatic perspective. This poem written in 1919 fluctuates constantly between a humorous, low-level naivety and looseness of the formulations and on the other hand a high drama. This dualism between the two concepts (the drama as an inner feeling and the naivety) is the premise of my work.
This work was originally conceived for a soloist vocal ensemble and electronic: commissioned by the Ensemble vocal modern for the Dresdner Tage der Zeitgenossische Musik 2002, this Version was never premiered due to flooding that affected Dresden at that time. 2003 I made a new version only for 4-channel electronic for the "next generation" Festival des Zentrums für Kunst und Medientechnologie Karlsruhe (ZKM). This version is the basis of the new revision commissioned by AuditivVokal Dresden. For this new interpretation of the work I took the speaker's voice away from the electronic. This spoken part will be performed live by Cornelius Uhle, member of the Ensemble AuditivVokal Dresden.
Looking forward to hear this new interpretation from AuditivVokal Dresden, and of course to meet you in one of the two concerts!
MENSCHEN-SPRACHEN-MUSIK: Tuesday June 14th, 2016, 14:30 and 19:30
Palais im Großen Garten – Dresden, Hauptallee 5, Dresden (Germany)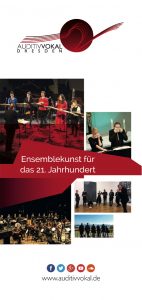 Program:
Mauricio Kagel – Der Turm zu Babel
Andreas F. Staffel – Sprachlos (Fuge)
Richard Röbel – Arabesken (Vermittlungsprojekt mit syrischen Flüchtlingen)
Gilberto Mendes – Motet em Ré Menor
Jorge García del Valle Méndez – Du, Deiner, Dich, Dir
Francis Poulenc – La Voix Humaine (Part 1)
Charlotte Seither – Echoes of O's
Michael Edward Edgerton – abaGa baratur